Kaabo Wolf Warrior GT King Electric Scooter – Gold | Buy Kaabo Wolf Warrior
Like no other when it comes to power, speed and climbing capabilities.
We introduce to you the newest addition to the Kaabo Wolf Warrior series – Kaabo Wolf Warrior GT King electric scooter.
This beast comes with a powerful double 2000 watt motor, offering you instant acceleration and an incredible hair blowing top speed. Bound to get your blood pumping. Buy Kaabo Wolf Warrior
It has a 72 voltage battery capable of reaching 5A, meaning it offers 90% better battery efficiency! The smart battery controller offers accurate estimations of the battery life while providing all the safety assets you need to ensure stability and safety for the battery. Buy Kaabo Wolf Warrior
This motorized scooter will blow your mind. With its wide off-road tires, double suspension and IPX5 waterproof rating, it is ready to take on any adventure. Rocky trails and bumpy forest treks – no match for this machine. And to top it all off, this e-scooter is capable of climbing 50% gradient uphills – that is super steep! Buy Kaabo Wolf Warrior
Forged at 1600 tons of pressure, this Kaboo e-scooter is rock solid!
Go Bigger, Go Further | Buy Kaabo Wolf Warrior
Lifts the levels of expectations when it comes to electric scooter with its insane dual 2000 watt motor and all-new 72V sine wave controllers. This powerful motor is capable unravel incredible power and capable of reaching a top speed of 100km/h. Offers riders instant acceleration yet still floats smoothly across the path. Whether you are looking to tackle rowdy off-road terrains or steep uphill inclines, the Kaabo Wolf Warrior King GT is made to impress you. Not letting any extra space go to waste, Kaabo has upgraded its battery to a larger pack containing 21700 battery cells and 72 voltage of power. Providing riders with 90% better battery life and exceedingly more runtime. The built-in bus transmission ensures battery stability, online measurements and accurate estimation of each battery cell. All of these elements enhance the usage of the battery and maintain high data accuracy.
Exceptional Comfort
Kaabo has always spent extra time and effort on creating a scooter that will provide riders with exceptional comfort, and the GT series keep pushing these boundaries. The GT King e-scooter is now fitted with puncture-proof, tubeless off-road tyres so you can enjoy riding on any terrain with confidence. It also comes with high performing front shock suspension that has been upgraded to allow for an extra 50mm of travel on a plush yet responsive ride. And to top it all off, it comes with an extra-large scooter deck and a bigger front end size making the handlebars 100mm wider and 50mm higher. Providing you with incredible stability and control at high speeds.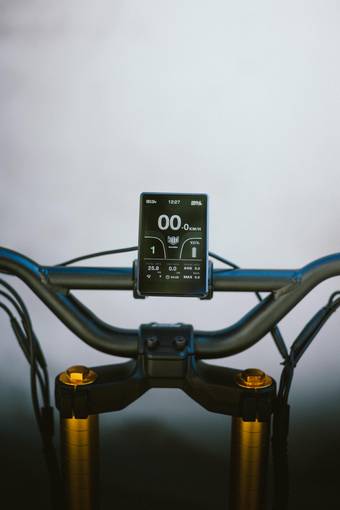 Buy Kaabo Wolf Warrior Online
Kaabo has thought of everything when it comes to this motorized scooter. Including its all-new full-colour TFT display screen. Located at the centre of the handlebar for easy access. The bright 3.5 inch informative screen offer insightful riding data like speed, battery, time and riding mode in order to optimise your riding experience. The large display is easy to see in both sun and night light, and runs on Kaabo's own custom software. Kaabo's Wolf Warrior electric scooters are well-known for their bright headlights but have now also added front and rear turn signals for better safety and visibility. For better riding control it also features built-in LED into the motor select buttons to better inform you whether you are riding with a single or dual motor. The GT King also comes with an advanced ECU box design and motor hubs that allow for an IP rating of IPX5. This means that the scooter is protected against small amounts of water. No longer worry about getting caught out in the rain or accidentally ride over small puddles. However, we do always advise riders to avoid riding in wet weather as it can be very dangerous.
BATTERY72V 35AH LG M50 / Samsung 50E (21700 cells)
MOTOR POWERDual 2000W
TIRES11 inch Pneumatic
SUSPENSIONFront hydraulic rear spring
BRAKESFront and rear full hydraulic
RANGE180 km
MAX HILL CLIMB50% gradient
DISPLAYSpeed, Battery, Mode, Voltage, Trip, Dual/Single Motor
GROUND CLEARANCE210 cm
LIGHTSFront, Rear, Braking, Deck Side Lights, Turn Signals
FOOT SPACE520 x 225
BAR WIDTH750 mm
WEIGHT52 kg
MAX LOAD WEIGHT150 kg
DIMENSIONS1260 x 750 x 1300
DIMENSIONS FOLDED1553 x 750 x 480
TOP SPEED100+
POWER MODES5 – Selectable in single and dual motor modes
IP RATINGIPX5
CHARGE TIME11.6 hours (halved with 2 chargers)
EXTRAHorn
*Care is taken when providing product specifications. Occasionally, without notice manufactures may alter product design or specifications.
Each state and territory in Australia has a different set of rules and regulations pertaining to the usage of e-Scooters and e-Boards (including where these types of products can legally be used and whether they need to be registered with the relevant road traffic authority). It is the responsibility of the user to ensure that they check and abide by their local laws and use responsibly.
Crooze Pty Ltd do not take any responsibility for the use of eScooters or eBoards in Australia. Have fun but ride with caution and always wear a helmet.